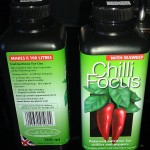 Taken out 2 bottles of nutrients to my chili today. Will be interesting to see if it is better a Biobact that I usually use.
Chilli Focus is an activity that is specifically adapted for fattening chilli and peppers.
Chili and peppers have specific needs when it comes to nutritional composition. Although these plants are faring relatively well with general nutrition can only get really good results with a rather complex nutrition.
Chilli Focus is developed based needs in commercial cultivation and contains pure mineral salts and organic plant acids, perfectly suited to these plants need.
With Chilli Focus becomes your plants healthier, stronger and more colorful, and produces juicier fruits.