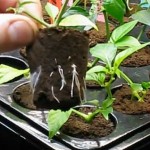 There are a lot of people asked me how I do when I take cuttings from my chiliplantor. Here's a little video where you can see how I'm doing. You can also download a pdf file in which I describe how I do with images and text. This is only an excerpt, which will be located in the folder/book that I'm currently doing. "Chiliodling as a Hobby" A small guide how I hobby grow chili indoors and outdoors. Everything from seed to lighting, nutrition, origin, wintering and what you can do with their chillies…
The RootIt cubes and the nourishment I use, you can buy here Hydro-garden
The cubes I use nowadays, Root Riot cubes that are available for purchase here wexthuset.com Are you in the chiliklubben on Facebook you have 10% on everything you buy there.
Download the description as pdf document. (Unable to print then it's only a draft)
[wpdm_file id = 9]
If you have any questions about cuttings from chili, just contact me.