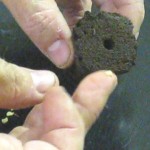 I sow chili seeds both in soil and in the sponge cubes "RootIt cubes" Here I show how wound chili "Fire" in a cube, and when the grot and had their character sheet how the school into a small pot with soil in a small video.

I currently have seeds left to "Chili Fire" Habanero-type. Chili is originally from Suriname and it is very hot!
This chili gives much fruit the first year but the winters so give it nearly twice as much fruit for the coming season if the footing in large pot 15 – 25 litre or planted directly in soil bed.
10 St basic 20:- Contact me if you are interested in..