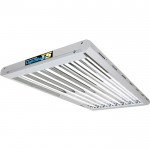 If you're going to grow chili indoor plants must get a light supplements if you cannot place them in a bright window. As long as the plants are at the window do most – even during the time when the days are short. We will place on the other hand, chiliplantorna a piece into a common room is not enough natural light for very long.
When planning lighting for themselves has been pretty much the only two things to take into consideration – the light is effective from the point of view of work and/or that it contributes to a pleasant atmosphere.

When to give their chiliplantor artificial light it becomes immediately more complicated. Among other things, you have to know what strength and what color temperature light has. Therefore, you can not only choose light sources that have the highest impact for a low-cost money or light that is good for our eyes. We must first of all choose a light that most closely resembles the natural light.
What to andväda for lighting source!
For chiliodling does not fit the usual glow lamp particularly well, but it is referred to using CFLs, Fluorescent lamps, HPS (high pressure sodium), MH (metal halide) or Led lamps intended for crop production. For hobby farming of chili is fluorescent and compact fluorescent bulbs, the most common and cheapest option and which also gives a good result. Using fluorescent lamps, or CFLs, you need fixtures but good reflectors so that the light is directed downward in order to get the maximum effect of its lighting.
Lu's strength
The light output is measured in lumens, and the luminous intensity in candelas, While the drive for lighting, lux. One lux equals one lumen per square meter and a lumen is equal to one candela. In order for a chiliplanta to clear his life must get 500-600 Lux under 10 – 16 hours per day. Would it be chiliplantan to thrive so well that it develops and becomes larger and put flowers and fruits, light intensity values produced shall lie between the 700 and 1 000 Lux 14 – 16 hours per day.
One of the conditions is that the light source is approximately 20 – 100 cm. above the plants, and the plants are so compact that they don't cover up more than about 1 square meters. It has many plants need more light, of course. We must also be aware that the farther away from the plants State of the light source is positioned to reduce the effect of light, It has a strength of 1000 lumens at 20 cm you have just 250 lumens if you raise the lights to 40 cm above the plants. The brightness is reduced to one-quarter when it doubles the distance.
Color temperature
When using compact fluorescent bulbs, it is color and which one 6500 k 4000 k usually use and with fluorescent color 840 (cool white 4000 k) and 865 (Daylight 6500 k) You can use both colors at once.
For plant illumination, it is difficult to give some general advice on what to use of different lighting sources. What I have found is that if you have only a few plants so it is sufficient 1 – 2 low energy light bulbs hang about 20 cm above the chiliplantorna. It has many plants and need to illuminate a larger area it is fluorescent a better option when the fluorescent lamps are available in various lengths. If there is any benefit to using Led lighting for plants is a more expensive option, I can not comment on yet but I'm going to start a study to form me an idea if it is worth the cost at the hobby growing chili.
Keep in mind that there is no lamp in the world can compare to the Sun!
Do you have any concerns or ideas about lighting for chiliodling so please comment my posts.