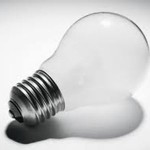 I do not think it is right to compare Led Plant lights for incandescent lamps to grow plants not under ordinary light bulbs. If you do this comparison so you get a very large saving of energy/money than if one were to compare against the lights that we are hobby breeders typically use such as low-energy light bulbs and fluorescent lamps.
Here is an example:
Growspots with the best wavelengths for flowers and green plants. Replaces standard lamps which have 5-10 times higher electricity consumption.
Super Growspot 20W price: 1295:- = 125W lightbulb
If I do the same comparison with a standard low-energy bulb so it will be like this:
CFL 4000 k 30W Price: 39:- = 125W lightbulb
The skilljer only 10W in between compact fluorescent lamp that can grow in and Super Growspot then drag lågeneriglampan 0,6 times. more energy and there is a significant difference to the 5 – 10 times. Why not compare this instead?
VAT do you think that some Led Plant vendors make this comparison with conventional bulbs and why do you think they do.
Give me a comment I want to know what you think about this!