Have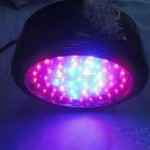 r you read my blog you already know that I don't really believe in all benefits and claim Led lighting for plants such as that it will be so much better than the lighting that we are hobby farmers usually use as fluorescent tubes and compact fluorescent lamps, etc..
I asked the question to one of Sweden's leading researcher on the subject of Karl-Johan bergstrand, research on plant lighting at the Swedish University of agricultural sciences in Alnarp.
My Question
Know the research today exactly what light, wavelengths that are the best for plant growth? I think if that were the case then the led manufacturers have taken on board the information and made his plant lighting after the science.
Why I ask is that I as a hobby grower gets much better results under fluorescent lighting at 2700 k mixed with 4000 k and 6500 k with T5 tubes are quite energy efficient. I have tested a number of different Led plant lights and the one that worked best was just blue and white Led light? Most have plenty of red and some blue. I think the plants need a much wider range of colors to feel good.
Best wishes,. Stig Häggkvist Chili hobby growers.
Reply by Karl-Johan bergstrand
Hey Stig!
You usually find that the red and blue light are most important, because chlorophyll has the highest absorbance where. In our research, we have, just like you, come to the conclusion that white light is beneficial. The reason for this is surely just as you say, the light of other wavelengths than red and blue needed for some specific processes in the plant.
Much of the older literature available is based on experiments using filters that gave red or blue light, which was not a "pure" light but contained other wavelengths as well, and therefore there was a decent result even in "red" and "blue" light.
LED gives only a certain wavelength, and then you can have problems if they grow in such a light.
Led suppliers look unfortunately often only on such old literature and find it hard to throw old truths and take to heart the latest research results.
Glad you found a light that works well for you, good luck with 2013 year chiliodling!
Best regards
Karl-Johan Bergstrand
Of course the answer was interesting? I think for myself, to take Plant Led the information with a grain of salt and not believe everything that is written on this topic…