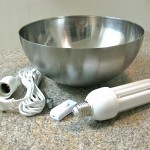 Now I have picked in hop a plant lamp consisting of a stainless steel Bowl from IKEA (shiny shiny 28 cm) a little electrical cable and a lamp holders, switch and a low energy light bulb from the auto parts store on 30W 4000 k and tested the (Light metering)
My measurements showed these results.
707 Lux at 0,5 metres above the plants, surface approximately 1.3. o square meters
2363 Lux at 0,2 metres above the plants, surface approx. 0,5 square meters
In order for a chiliplanta to clear his life must get 500-600 Lux under 12-16
hours per day. Would it be chiliplantan to thrive so well that it develops
and grows large, light intensity values produced shall lie between the 700 and 1 000 Lux and clear
This home fixed plant lights if you don't place it higher up than 50 cm
from the top. You can also use the 20watt and 15watt lights but then the effect is smaller but the hands well o well to wear over their small chiliplantor.
This lamp is perfect to wear over seeding by chiliplantor.
PS. When a low-energy lampas setting becomes quite warm so it is best to use a fixture that can withstand high heat!
Here is a little video on the built-in!