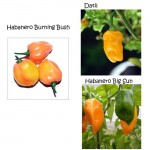 This time it is 5 seeds of varieties Habanero Big Sun, Datil and Habanero Burning Bush as the lucky winner will get in his berevlåda.
Note: This "Give a way" is completed. Congratulations Andreas Eriksson!

Like my site, Press the like (Like) button below.
The only thing you need to do after you liked my page is to post a comment about what you think of my little home page, good or bad, or maybe something you would like to know if chiliodling that you can't find on my page. This time, I have only one winner from the flower pot of all those who left me a comment on my little home page. The winner will be notified by email and on this site the 3 February 2013.