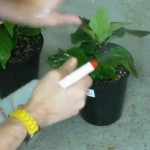 I wont såpbehandla my chiliplantor preventively against aphids, etc. Although I don't see any bugs and it has proven to be a good method. I have not suffered from lice in recent years and I believe that it is this simple thank method. This method should you use if you see signs of any plant is afflicted by lice. Here I show in a small video how to.
PS. SOAP is not harmful for the plant!
If you have any questions about this please contact me!