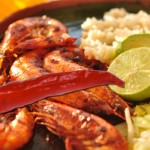 Submit your best recipe containing chili and have the chance to win one of Mini Grow Station by a Led lighting from Parus on 30W. as well as during irrigation tray with kapilärmatta.
PS. You will find Mini Grow Station under the button "Construction projects"

The recipe can be a main course, Starter, dessert or a drink.
The recipe should contain a detailed description of the ingredients used and the quantity or weight of these and a detailed description of how to do as well as image (s).
If you submit a recipe and take part in the contest you agree that I may publish the recipe on my site www.shaggkvist.se
The best winning recipe is chosen by me and my wife and not subject to appeal.
Anyone who gets their recipe published may 10 St. chili seeds of a Habanero cultivar.
The deadline is the 15 February 2013. The winner will be notified by mail and on my website the 28 February 2013.
To be with.
Email your recipe to stig@shaggkvist.se Note with the topic "Chili Recipes" och ge mig en kommentar till detta inlägg så är du med i tävlingen!
PS. Om du gillar detta så tryck på "Like" Knappen
Good luck!