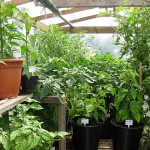 There is a little divided on how and when you can exhibit their chiliplantor in cold greenhouses. If you are driving up their chiliplantor indoors so it will be soon full of plants that take quite a big place like this in the spring and then want it as soon as possible put them out in the cold greenhouse, balcony, terrace etc..
Keep in mind that chiliplantor is heat-intensive, so please be not in a hurry to exhibit them!
I have get me a thermometer that measures no more than the lowest temperature during the day/-. I check what it stands for nattemperatur on the thermometer. If the temperature stays at about +15 – 16 degrees at night and there is no greater risk that it will get colder, so I set out most of my plants, some of my plants so that "Carolina Reaper" and some hot varieties from Trinidad, I am especially alarmed if so they will have to wait until night temperatures have risen an additional degree.
I check the weather report a little extra careful the first week and the temperature would creep down so I always have a little filter cloth at hand that I can cover over my plants with but.
What happens to chiliplantorna if they may be too cold? Well the plants become stressed by being too cold and it turns out quite often they drop their flowers and leaves are also sometimes. All of the large temperature swings like the nor, It can of course be 25 degrees in the greenhouse during the day but only 13 degrees at night and feel the not very good by.
Of course you can take a chance but not me then I now worked for several months with my plants for them to get beat out in full bloom in summer and provide a lot of fruits. I don't want all the work should be förjäves…
How are you going to do, When you set out your chiliplantor?