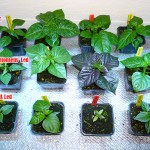 Now, the plants received stand 26 days under each lighting and some grow well!
It's pretty evenly between fluorescent tubes and Eco solutions Led lighting so there's no doubt that this joint is working fine. It is a little worse for GEMMA Led these seedlings are lagging behind but we'll see how they look on next update.
Here's a little video.