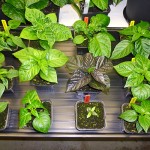 Nu har det gått 36 days ago the lighting test started and it is still between the fluorescent tubes and Eco solutions Led in terms of growth, GEMMA is after. If you compare the plants root development so the result is the same.
Today I had to school if all plants for a 1,3 liter pot of nutrient rich soil. They will now have the remain under their respective lighting. The plants got new plant labels that will be involved throughout its development time. I will follow these plants even when they are out in the greenhouse so we'll see if that makes a difference in fruit development..
Next update coming on 10 dagar.
A small video.