This year as I grow both hot and mild chili. Here is 3 new chilisorter
as I grow in years. They have grown well and exchanged that I want my small
chiliplantor, lågväxta, strong and lush green it is almost time
for these varieties to get a larger pot to continue to grow in developing.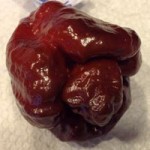 Brown Moruga ™
Brown Moruga ™ is a hot Brown Moruga Scorpion
from PepperLover in the United States. The rewards can be greater
than Moruga Scorpion Chocolate. According to many
a new kanidat to the world's hottest chili.
Strength: Super Hot
Jay's Peach Ghost Scorpion
A cross between the Bhut Jolokia, Trinidad
Scorpion created by farmer Jay in Eastern
Pennsylvania United States. Strength: Super Hot
Aji Pepper Llanero
A very unusual chili from Venezuela with mild
fruits that get a little wrinkled. Sweet and fruity taste.
Strength: Mild