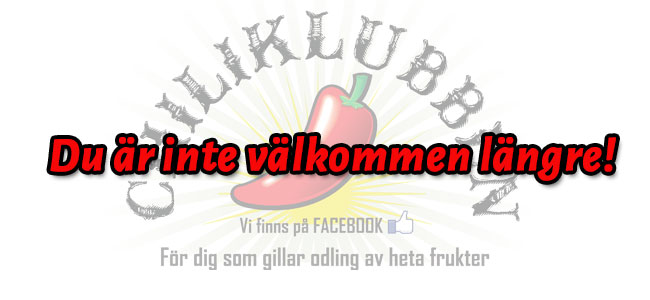 It was not so popular that I started my own group on Facebook. Now I don't get to be with the Group Chiliklubben on Facebook anymore where I gladly shared with me by my experiences and tips.

What is the problem? Well I showed some pictures in the Group Chiliklubben on some chilisorter
I have seed and then took the houses in hell! So did not do then could the group members also join my group.
Strange, the fact is that work on Facebook. Most of them are, of course, in several different groups that are interesting and it wont of course be no problem. To just share where to get hold of seeds as well as tips and Ideas is, of course, the whole thing with these groups.
Yes Yes now, you know the situation and I do not grasp for it. It is more sorry for the group members in the Group Chiliklubben which cannot take part of my tips and Ideas in this bumps anymore.