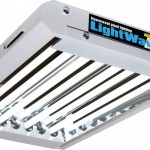 As many probably know so I grow under fluorescent lamps and compact fluorescent lamps, Why do I do it? It will not go well for these lights is not optimized for plants.
To grow chili during low-energy light bulbs and fluorescent tubes with correct color code is very good although many says otherwise. Just look at my plants so you can see the result.
What do you use for lighting and what do you get for results? Fun if you would like to share with you here so I may know.