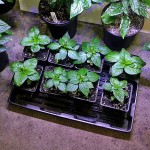 I did get 8 St chiliplantor in the mail from England for about 10 days ago and they have grown well and now they look like in the picture. I'm waiting for a new shipment of 4 different types of chiliplantor, I hope they are coming this week.
Order of plants is at your own risk. If you have bad luck so the postal service longer than intended and then the plants be in frigid environment, etc. and then they are not beautiful when they arrive in the mailbox, Yes you could say that the more or less dead if you are unlucky. Most of the time so can handle the plants delivery to Sweden, I have ordered several times and it has not been a problem.
So here it is at the Sea Spring plants on orders outside the Uk.
"Orders from other European countries are accepted, on the condition the customer takes full responsibility for problems with the delivery"