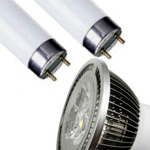 Led lighting or the right custom fluorescent lamps, which is better for Chili hobby grower?
I have tried to answer the question about LED lighting is much better in terms of chiliväxternas growth than if you are using the correct custom fluorescent lighting when you power up,grow chiliplantor. The issue has not been easy to get answers to!
Led lighting for plants to be energy-efficient, according to many, is it really the?
To grow quality products should be as close to the Sun as possible, pass the point of doing it while being energy efficient?
A narrow spectrum LED usually gives, it is good for chiliväxter or is it so that the plants are the best of a wide range which you can get by combining various custom fluorescent lamps?
One can say that LED lighting is better than the right custom fluorescent lighting if you want to power up and hobby grow chiliväxter?
To get answers to many of these questions, I am going to do a study in which I will give my experimental plants exactly the same conditions except for the light they will be under. I start in november 2012
It will be very interesting to see if I can finally find answers to my questions that no one could or might not want to answer!
You can follow my study here on my page where I will post pictures, etc. and tell me how it goes.