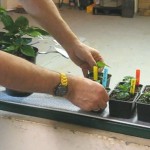 I've previously here on my page showed how to easily make a under irrigation tray to its chiliplantor but only in video and text form. So now I show how you can do with a little video!

I got a mission of a chilipolare on Facebook to bring out a tray for windowsill where he could put their chiliplantor and also go away 1 week without being afraid that the plants would dry out so I had to get a suitable tray and get started. He wanted a little video on how to do it so now there is a little video for you here that want to fix your own tile
The principle is the same no matter how large the disk you want to do.
What you need is a tray with an edge of at least 3 cm and a plastic sheet and a piece of kapilärmatta, some haul water resistant material, Glue, knife/saw and scissors.
Window washer I use has dimensions: Length: 76cm, Width 17, 5 cm, depth 3, 5 cm and costs 57:- available to buy here Click here
Kapilärmattan is available for purchase here 26:- Click here