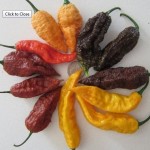 In Chiliklubben on Facebook so we buy seeds together and this is one of our orders. Then it got a few seeds over so you can now enjoy these seeds.
2006 It was confirmed by Guinness World Records as the strongest chili in the world 1 001 304 SHU. Now, it is no longer the hottest in the world but it is very hot..
There are not many left so it's first come, first "Left" as far as!
These are the kinds that are included and 5 seeds of each.
Bhut Jolokia Purple
Bhut Jolokia Red
Bhut Jolokia White
Bhut Jolokia yellow
Bhut Jolokia Orange
Bhut Jolokia Peach
You can find them here in my "Chilli Seeds"